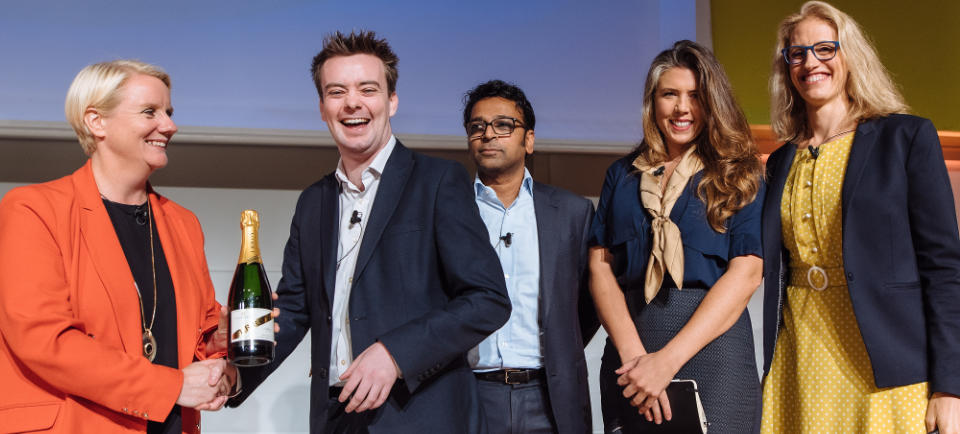 Financial technology (fintech) firm 9Fin won the 'Dragon's Den' event at FILS 2019, beating tough competition from Auquan and Scorable.
Following a series of pitches for each idea, the judges grilled Steven Hunter, co-founder and CEO at 9fin, Oliver Kroll, chief product officer at Scorable and Chandini Jain, CEO at Auquan about how their products work and what they solve.
9Fin uses machine learning to gather and consume, then organise and understand financial data in the fixed income markets. Pulling it into one place effectively makes it easier to search, filter and analyse. This is both an efficiency play through time saving, but also allows professionals to potentially spot big market events before they happen. The firms claims to have predicted more than 20 price sensitive market events this year to date.
Scorable also uses artificial intelligence (AI) but to analyse credit risk in bonds based on multiple data sources such as financial news, market prices and credit ratings, with are then set against their influence on a company's financial position. This is also aimed at predictive support for investors.
Kroll said the firm had an 80% true positive score rate on predicting downgrades – and non-downgrades – over a 12 month time horizon.
Auquan uses a collective of data scientists to crowdsource trading strategies; by allowing portfolio managers to put problems out to a group of data scientists, the latter get payment and recognition for their achievements and the former get solutions to investment problems.
©The DESK 2019