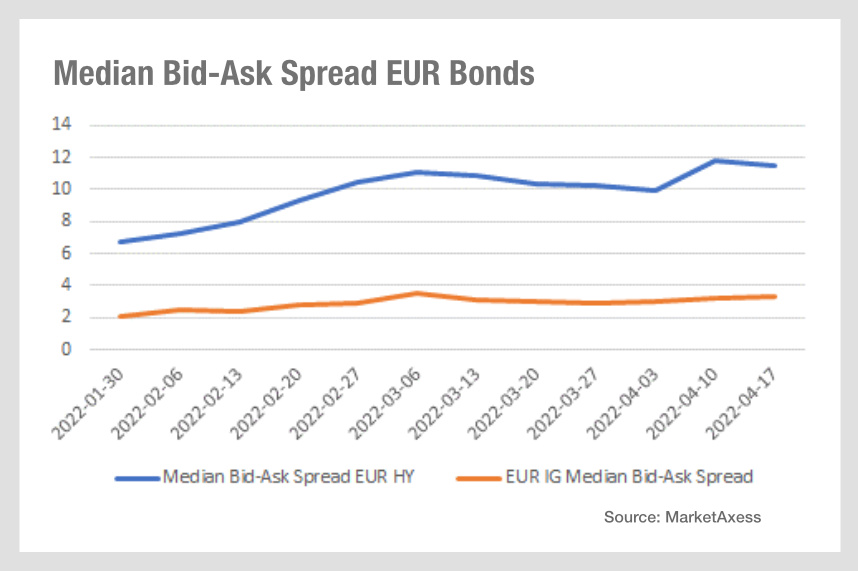 Comparing European high yield (HY) and investment grade (IG) corporate bond data from MarketAxess, the pressure for traders and investors in high yield markets is very apparent, set against investment grade (IG). The average bid-ask spreads for HY Eurobonds hit a high for 2022 on the week of 10 April, spiking nearly two basis points, to just below 12 basis points. That creates five basis point range of bid/ask spread so far this year; by contrast Eur IG bid/ask spread has been fairly rangebound at 2 basis points.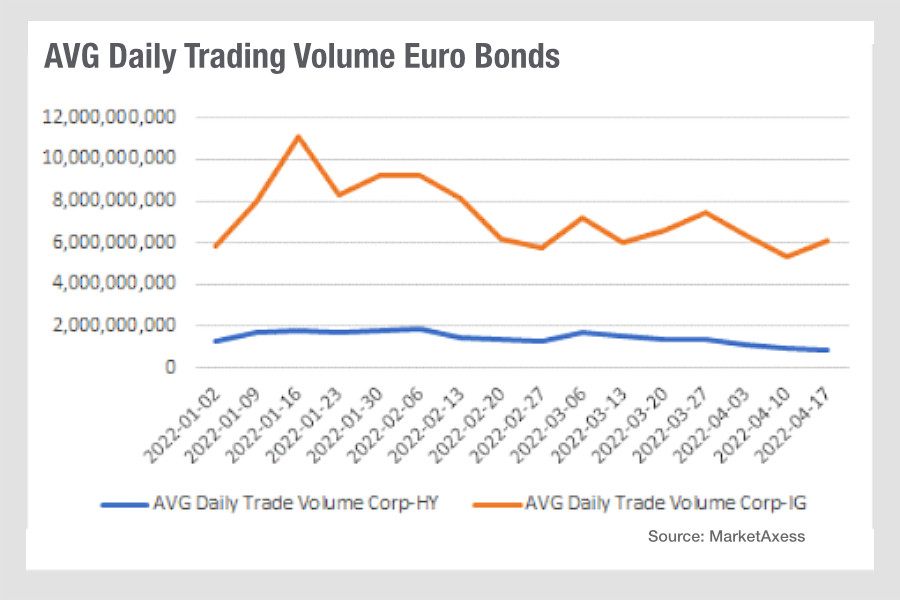 Volumes are equally contrasting, with average daily trading volume for Eur IG topping out in mid-January at US$11 billion, way above the year-to-date average of US$7.3 billion. Since then it has seen a raggedy collapse to bounce around the US$6 billion+ mark.
High yield has faced a similar decline but with trading volumes already low, topping out at an average daily volume (ADV) of US$1.8 billion in January and since falling to US$886 million in the week of 17 April.
That means HY saw an ADV decline of US$230 million in two weeks, with a 1.6 bps spread increase over the same period.
While this data represents across bonds in Europe, and some sectors/firms will be more affected than others, it will reflect greater operational pressure on buy-side trading desks.
On 6 April, IOSCO issued a consultation on liquidity risks in the corporate bond markets, with Carmine Di Noia, director, OECD Directorate for Financial and Enterprise Affairs noting that "thanks to the rapid response of regulators and central banks, primary corporate bond markets remained open during the COVID-19 crisis raising a record US$3 trillion in 2020 alone. However, corporate debt levels now raise concerns as to the extent to which credit quality deterioration could affect the recovery. IOSCO's report provides valuable lessons on ensuring vibrant capital markets continue to support corporate sector resilience. The OECD looks forward to working with IOSCO on this important endeavour."
Buy-side firms and other market participants can send responses before 8 July 2022 to the discussion questions within the report 'Corporate Bond Markets – Drivers of Liquidity During COVID-19 Induced Market Stresses' to: CBML-feedback@iosco.org