A new report by analyst firm Crisil Coalition has found that the unprecedented levels of volatility and trading activity seen in the first half of the year have begun to normalise, yet bank have still delivered revenue levels in Q3 up by 26% year-on-year, the highest for almost 10 years. Full year revenues for investment banking are predicted to grow by 25% year-on-year (YoY).
In the fixed income, currency, and commodities space (FICC) the growth year to date was driven by record growth in H1 which was up by over 50%, particularly in rates, flow credit, FX and commodities.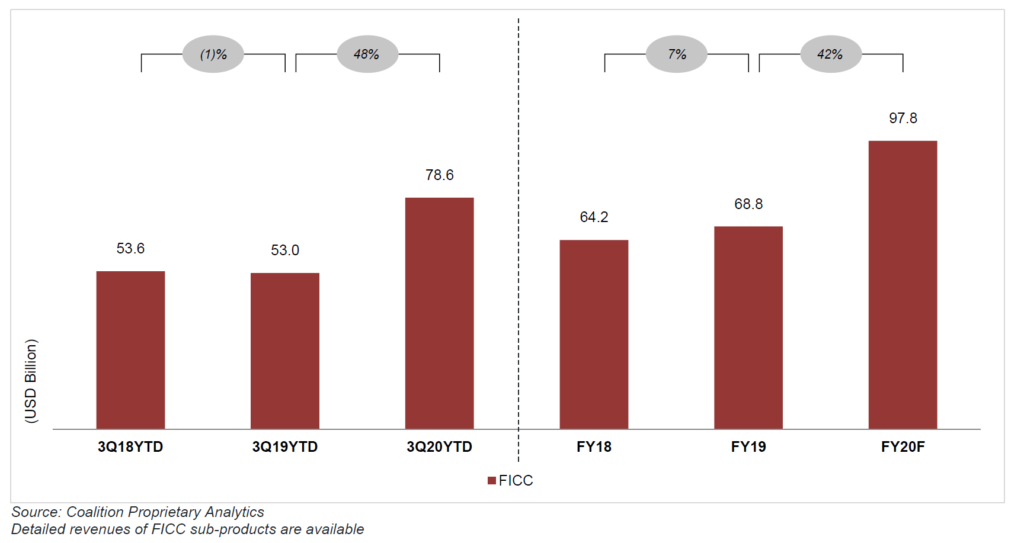 Up to the end of Q3, central bank intervention, market volatility and strong client activity all boosted the performance of flow rates especially in government bonds, swaps and vanilla options. Coalition found the record rates revenues in H1 normalised in 3Q20, slowing down to low double-digit growth. Q3 also saw a slowdown in repo from decreased client activity.
Credit products outperformed in high yield and investment grade corporate bonds as spreads narrowed. Emerging market revenues also increased by over 50% as clients took advantage of interest rate differentials.
Strong momentum in G10 flow credit continued from Q2 on the back of solid activity in investment grade (IG) and high yield (HY). Securitisation revenues in Q3 year-to-date were broadly flat. There was a weaker performance in distressed credit throughout the year.
There were significant gains in IG bond underwriting activity, as corporates looked at building cash to support liquidity as a buffer to any uncertainty around the COVID-19 pandemic.
Investment bank headcount declined 1% YoY globally as European banks saw a drop of 5% YoY while US banks rehired in targeted businesses, especially FICC, and were up 1%. In FICC some banks have rehired in spread products.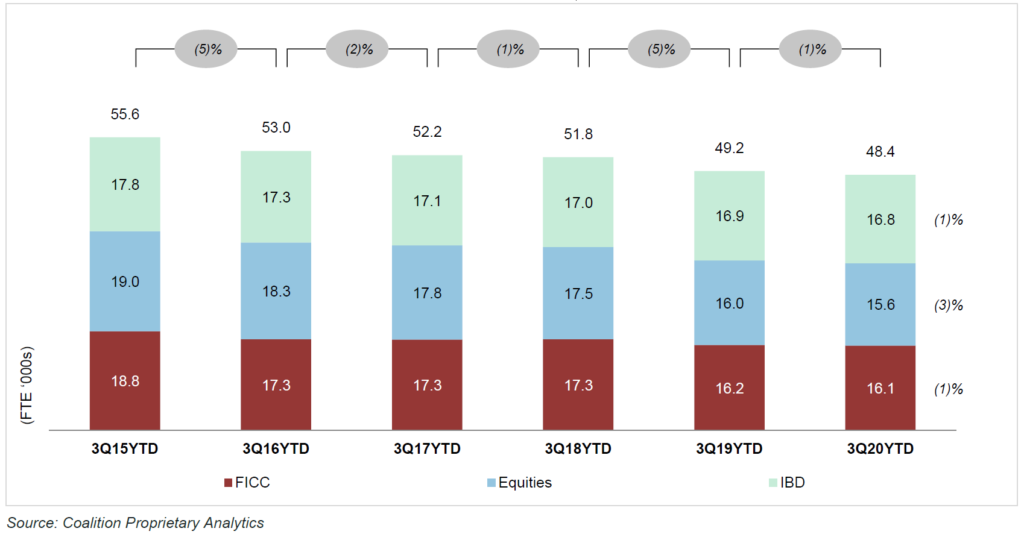 "With the combination of increased trading revenues and client activity and a marginal decline in headcount, productivity reached highest levels in over five years," Coalition wrote "The greatest increase was seen in FICC up ~50% YTD."
©The DESK 2020
TOP OF PAGE