Remote working did not hold back sell-side firms in 2020 according to data from analyst firm Coalition. Full year investment banking revenues increased by a record 28% year-on-year (YoY) while fixed income, currency and commodity revenues increased 41% YoY.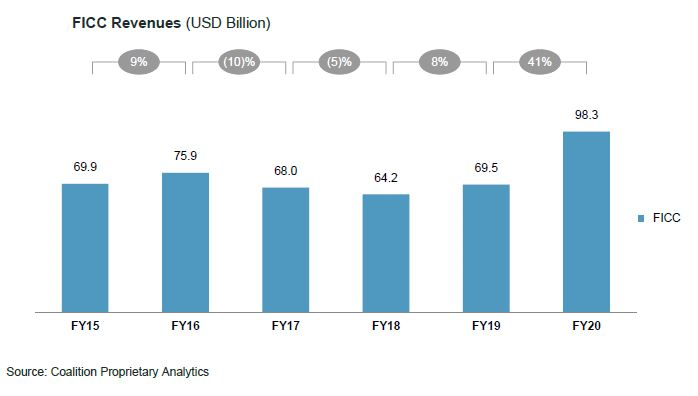 The market sell-off in H1 saw massive growth driven by stellar performances in Macro products, with emerging markets (EM) trading up by 65% YoY and rates trading up 87% YoY. In the second half of the year, commodities (+98% YoY) and credit (+55% YoY) led the way.
Firms recorded the highest index revenues in more than ten years after a slow start, with there was a surge in trading revenues in the second quarter with the oil trade war and market response to Covid-19. Strong flows continued into the third quarter and parts of the fourth.
"[There was] significant improvement in revenues in Government Bond trading and IR Swaps on the back of pandemic-related government intervention," Coalition reported. "Repo revenues were marginally up due to outperformance in 1H20 partly offset by compressed margins in 2H20.
Credit trading was mainly driven by flow product volumes; "Within flow credit, investment grade (IG) and high yield (HY) bond trading remained key drivers as the market saw heightened client activity due to central bank intervention, sizeable primary issuance, and spread movements."
Coalition also noted that there was "substantial" growth in portfolio trading, most notably in US IG, which has been reported more widely by several buy-side trading heads to The DESK. In the Coalition analysis this was buoyed by the increasing assets under management (AUM) in fixed income exchange traded funds (ETFs). Revenues were weaker in structured credit due to risk aversion amongst investors. Spreads in EM credit grew which led revenues to increase significantly.
The first half of 2020 also saw a boost to EM FX and EM rates due to wider spreads, economic factors and normalisation from previous year's underperformance. There was significant underperformance in secondary revenues for municipal bond trading due to trading losses at the beginning of the year, which was partially offset by improvement in lending activity in the second half. Primary revenues remained resilient due to increased bond issuance.
©The DESK 2020
TOP OF PAGE