Banks saw fixed income, currency and commodities (FICC) revenues rise by 54.6% in the first half of the year according to analyst firm Coalition. It found that revenues in G10 rates products doubled on the back of "exceptional performance" across all products in the sector with government bond trading and interest rate swaps being key; it also found that repo revenues registered a significant improvement.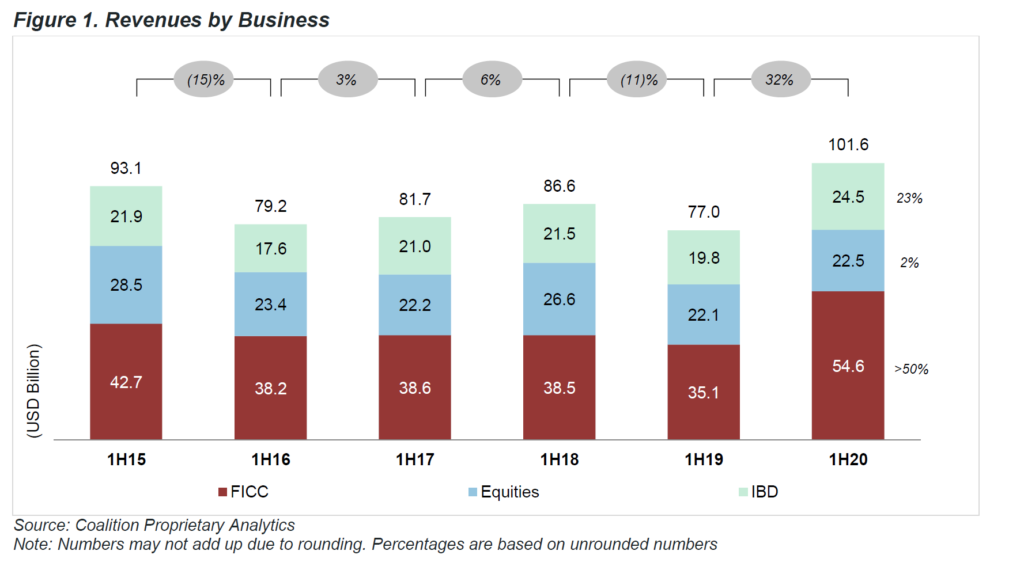 In the G10 foreign exchange (FX) and emerging markets macro areas products also outperformed across the board, with both options and spot trading doin g particularly well due to the elevated levels of implied volatility, higher trading volumes, and increased Institutional client activities.
In spread products the returns from investment grade (IG) corporate bond trading in the H1 triggered by "near record levels of client activity" were offset by lower revenues in distressed and structured credit. Returns from securitisation and municipal bond revenues fell in H120, led by underperformance in trading activity, especially in the first quarter of the year.
Headcount continued to fall, with front office 'producers' dropping by 3% to 16,300 across the major banks surveyed. Overall operating margins in the FICC space increased by 19 percentage points, thanks to higher revenues and falling headcount, offset somewhat by compensation accruals and technology spend.
©The DESK 2020
TOP OF PAGE