By Flora McFarlane.
Deutsche Bank has signalled its intent in the fixed income game, with the German bank the first to say it will register as a systematic internaliser (SI) for bonds and derivatives ahead of the January 3 MiFID II deadline.
As the new rules come into play, and with recent research showing worrying levels of unpreparedness, particularly in terms of transparency obligations and research pricing, clients will be looking for firms that smooth the process of transition.
Most large banks will be obliged to launch the new trading platform in September 2018, however Deutsche Bank has decided to get ahead of the rest of the field, building on a recent hiring spree across its credit trading business.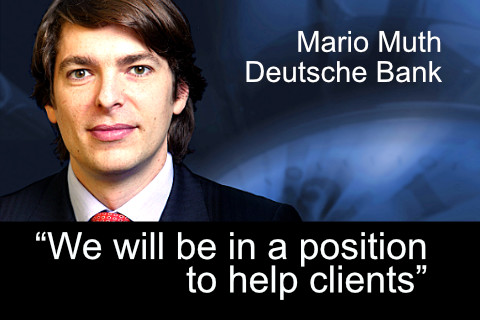 "By registering early as a systematic internaliser, we will be in a position to help clients by taking on post-trade reporting duties as soon as the obligations come into force," said Mario Muth, head of fixed income electronic sales and head of fixed-income market structure.
So far, most banks, including JPMorgan, Goldman Sachs and Credit Suisse, have registered as an SI for trading cash equities, however Deutsche Bank is the first to announce an SI launch in bonds and derivatives.
After the platform's launch, the German lender will deal on its own account by executing client orders outside a regulated market or an MTF, taking responsibility for collecting and publishing pre- and post-trade data. SI venues are designed to fill clients' buy or sell orders directly, and with increased obligations, aim to meet the regulator's objectives of increasing transparency.
The fixed income and currencies business (FIC) still generates around a third of corporate and investment-banking revenue for Deutsche Bank, despite a recent downturn in revenues. Q2 results showed a 12% year-on-year decline in FIC. The move could win over clients who are facing more than US$1.1 billion in estimated MiFID II compliance costs, and bolster revenues.
This initiative comes on the back of the lender bolstering its staff across credit trading; over the past 18 months, 21 new hires have joined its European credit business, along with 19 additions to the US team.
Paul Huchro, former partner and head of US credit trading team at Goldman Sachs, will start as global head of investment grade credit trading at Deutsche Bank on Monday, October 16, bringing three decades of credit markets experience. The high-profile addition, Huchro, will also act as head of high yield credit trading across the US and Europe.
The bank said in a statement that these moves have been made in response to client demand, and growth in its credit platform.
"We expect to see client activity in credit increase as monetary stimulus is withdrawn," head of European credit trading, Gavin Colquhoun said.
©TheDESK 2017
---