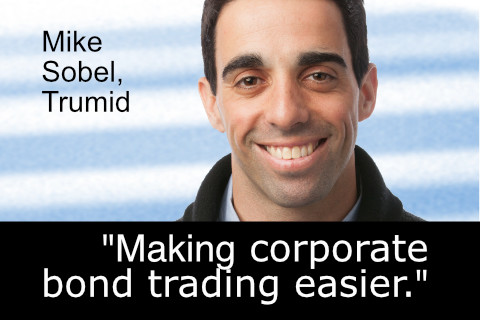 All-to-all US bond trading platform Trumid has agreed to buy fellow all-to-all trading platform Electronifie. Upon closing, the deal will mean the Trumid user base will expand by approximately 20%, with the expansion largely composed of real money asset managers, according to Mike Sobel, president of Trumid. This will create a user base of over 350 institutions on board the Trumid Market Centre, the company's all-to-all trading network for corporate bonds.
An insider said that the transition on day one of the move is still to be decided but that users would be moved to the Trumid model.
"Within short order they are going to see something that looks and feels mostly like the Trumid Market Centre, with the best elements of the Electronifie platform incorporated into that," he noted. "Some of that may be an enhancement of some protocols, some of it will be more granular workflow work, but the kind of trading methodology and bones of the platform you know will be analogous with the Trumid market experience."
Following a regulatory approval process, Trumid expects the transaction to close early in the second quarter of 2017.
"We pride ourselves on building a strong user network and delivering great products that make corporate bond trading easier. Trumid continuously strives to improve all aspects of our clients' trading experience," said Sobel. "The Electronifie team shares that vision and the combination of our networks will enhance the all-to-all liquidity available on the Trumid platform."
Trumid recently closed a US$28 million capital raise, with participation from existing lead investors as well as from new partners including CreditEase Fintech Investment Fund. The capital raised will reportedly be applied to the firm's data science effort Trumid Labs, expansion of its salesforce, and development of new products.
TOP OF PAGE
---