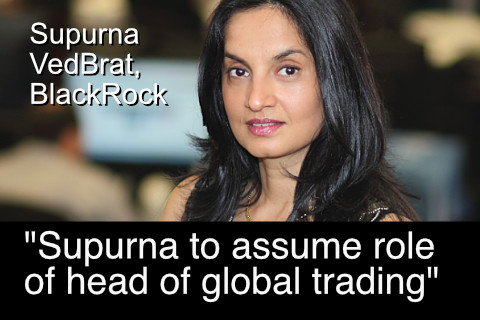 Supurna VedBrat, currently deputy head of trading and co-head for Electronic Trading & Market Structure at asset manager BlackRock will become global head of trading in Q2 2017.
"Under Supurna's leadership to date, BlackRock has made significant strides to deliver performance to clients through improved access to liquidity and reduced transaction costs," said Richie Prager, head of global trading at BlackRock, in a statement. "Beginning in early Q2, Supurna will assume the role of head of global trading where she will be responsible for setting the strategic vision and drive innovation across the platform."
As head of global trading VedBrat will oversee BlackRock's global trading activities and will take on responsibility for driving innovation and setting the platform's strategic vision. VedBrat is a member of BlackRock's Trading and Liquidity Strategy Executive Committee, Global Operating Committee as well as the Human Capital Committee.
In her current role, VedBrat's responsibilities include Global Equities Trading and Prime Brokerage Financing, while as co-head of electronic trading and market structure she worked across asset classes. Externally VedBrat sits on the Commodity and Futures trading Commission (CFTC) Technology Advisory Committee (TAC) and the CFTC Global Markets Advisory Committee (GMAC).
She has worked for over 19 years in the US and Europe within the financial industry and the technology industry. Prior to joining BlackRock, she consulted for the firm she founded, Strategic Solutions Consulting and she also held various positions at Bank of America, ING Barings in London and Lehman Brothers in New York. She started her career as a software engineer with IBM at their research centre in New York.
Chris Vogel, global head of Fixed Income & Currency Trading at BlackRock will be leaving firm at the end of August. Vogel, a former marine, is a highly experienced fixed income and currency trading head, with 24 years of trading across the buy and sell side, including senior global positions at Bank of America and JP Morgan Chase.
TOP OF PAGE
---