A new report by the Professional Risk Managers' International Association (PRMIA) and Bloomberg has found that while the majority (79%) of the firms with LIBOR exposure are prepare for the transition, there are still big barriers to using new derivatives based on risk free rates (RFR).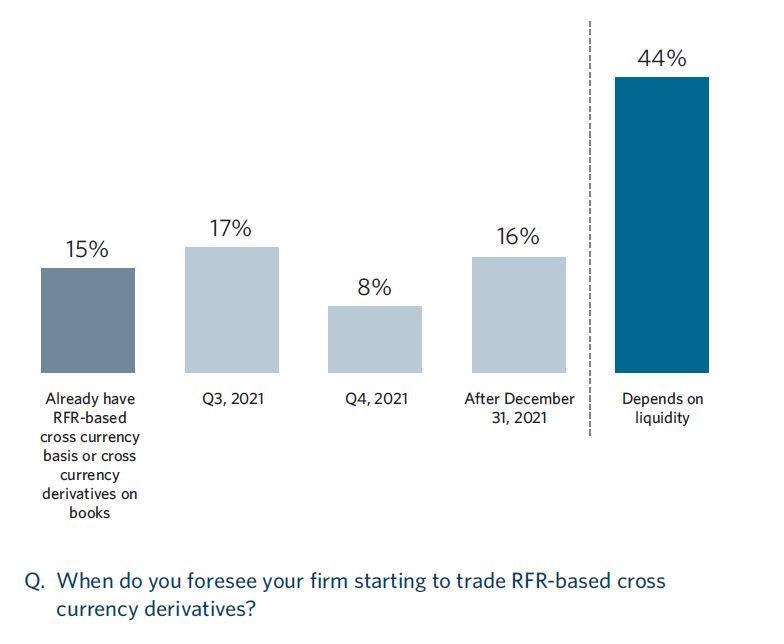 To assess readiness for handling LIBOR-based derivative portfolios and the trading of new RFR-based derivatives, Bloomberg and PRMIA conducted a survey of over 130 firms across various jurisdictions including EMEA, USA, Canada, APAC and LatAm.
Although most firms have their transition to risk free rates underway, the research found there remains some reluctance to engage with industry-developed solutions to support the transitions.
For example, while nearly 50% of firms had signed or planned to sign the ISDA 2020 IBOR Fallbacks Protocol, 23% had no plans to sign and a further 28% were not sure or did not know if they would.
Trading in new RFR-based derivatives has been slow to pick up, with London Stock Exchange Group having to close its derivatives venue, CurveGlobal, due to a lack of volume and engagement.
Although 15% of surveyed firms already have RFR-based cross currency basis or cross currency derivatives on their books with an expectation that this will pick up throughout the end of the year and after, 44% said that this will depend on liquidity, potentially meaning that critical mass will be hard to find.
That was also true for consistent trend with over the counter (OTC) RFR-based options, with 14% currently trading and 44% planning to start this year or into the next, but 42% saying it depends on liquidity.
The report concluded that despite the progress already made, much work remains in the final quarter of 2021.