By Pia Hecher.
Venue operator and data provider MarketAxess has announced its second quarter results with significant upward trends in overall trading volume, including Open Trading, Eurobond and emerging market (EM) volume.
The second quarter (Q2) results show a 16.4% increase year-on-year (YoY) in total trading volume, with a strong growth of 56.7% in Open Trading, the firm's electronic all-to-all credit trading marketplace.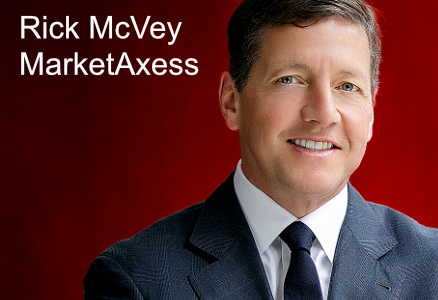 "Open trading broadens and deepens our liquidity pool so that we can better serve our clients," said MarketAxess chairman and CEO Rick McVey. "Its volume is growing rapidly across all four core products, [EM, Eurobond, US investment grade and US high yield.] This is a sign of growing acceptance of all-to-all trading in credit."
Other business highlights include an increase of US high-grade trading volume, as a percentage of the Financial Industry Regulatory Authority's (FINRA) high-grade Trade Reporting and Compliance Engine's (TRACE) trading volume, from an estimated 17.0% to 17.4%. Eurobond trading volumes increased by 32.3%.
"There have been some technology changes in open trading for Eurobond, making it easier for market makers to respond to open trading orders," Mr McVey noted.
EM trading volume expanded by 27.0%, with EM local markets trading volume growing by 39.6%. "Organic growth in EM open trading activities is primarily taking place in external debt markets," McVey remarked.
New business is also coming from Europe, with an 27.4% increase in European client volume. In addition, MarketAxess reports a growth of 16.7% in active international client firm participation, reaching over 600 in 2018.
In terms of overall earning, revenues amounted to US$107.0 million, US$52.0 million in operating income and US$1.07 in diluted earnings per share (EPS). The figures reflect a rise of 11.1% in revenues, of 6.2% in operating income and of 7.0% in diluted EPS since the second quarter of 2017. At the same time, expenses went up by 16.1% and operating margin decreased from 50.9% to 48.6%.
MarketAxess's McVey said that good progress was made in the company's long-term growth priorities of Open Trading and international expansion.
"The increased investment in trading automation by both dealer and investor clients is a clear sign that the future of electronic trading in credit is bright," he added. "Although we expect open trading to make up a significantly higher percentage of our volume in the future, a balance between traditional client-to-dealer activity and open trading activity will remain on the platform."
©TheDESK 2018
---