Story updated 16.00 BST 30/8/18
In a Trader Alert published at 08.30 ET, on 30 August 2018, updating a previous notice published on Friday 24 August, it said, "Since implementation, Nasdaq has excluded Minimum Quantity orders from the closing cross price calculation, but included them in the execution process. As a result, there were instances where orders resting on the continuous book did not execute because resting Minimum Quantity orders ahead of them in priority (by price or time) were included in the execution process."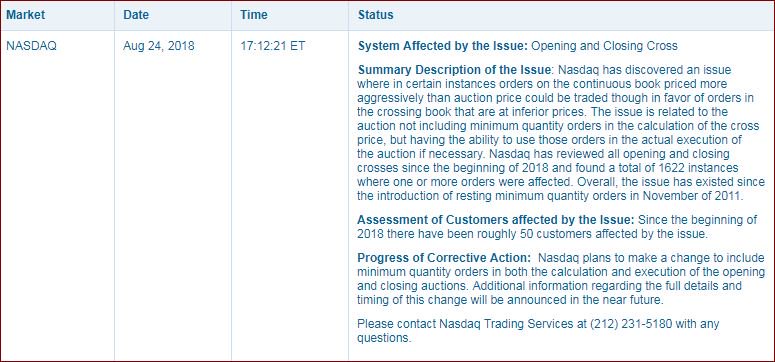 "Further analysis of 2018 data shows that 1,287 Minimum Quantity orders were executed across 1,231 opening or closing crosses. Nasdaq has executed a total of 48,266,472 orders across 892,409 opening or closing auctions thus far in 2018," it continued.
"It wasn't every cross, opening- or closing-auction," says Joseph Saluzzi, partner, co-founder and co-head of equity trading at agency broker Themis Trading. "It was only those that had orders with a minimum fill. If there is a non-displayed order with a minimum fill, that order was not included in the closing cross. Normally everything would be included in order both to calculate the closing price and to give that order a fill."
In its original notice, the exchange firm said that it had only reviewed instances in 2018, and found 1622 instances so far this year where "one or more orders had been affected", with 50 customers impacted during that period.
It did not elaborate on how many had occurred since 2011 which is when minimum quantity orders were introduced. The exchange reported the problem as starting at that point. If 231.7 instances occurred on average each month, that suggests 19,464 instances could have occurred over a seven-year period.
"What they said in their note was that those orders were not getting filled and their supply and demand was not being calculated in the closing cross," notes Saluzzi. "As a result there is an opportunity cost and a closing price problem."
As the closing price is used as a benchmark for other instruments this affects not only the price of the stocks traded on Nasdaq but potentially the price of exchange traded funds and of options.
"That is why the closing auction is so important," Saluzzi notes. "They left very vague details there, they are being a bit elusive at this point so they need to explain this a lot better."
Under Regulation Systems Compliance and Integrity (Reg SCI) which came into effect 3 February 2015, self-regulatory organisations including exchanges are required to report any problems with major systems to the Securities and Exchange Commission.
The exchange operator reported it would correct the problem in September, noting, "Nasdaq has determined to amend its systems such that Minimum Quantity orders are excluded from all aspects of the Nasdaq auctions as intended, and also to make this behavior more clear and consistent throughout the Nasdaq rulebook and associated documentation. Addressing this issue is of the highest priority at Nasdaq. Nasdaq estimates that the change will be implemented on September 24, 2018 pending SEC filing."
©TheDESK 2018
TOP OF PAGE