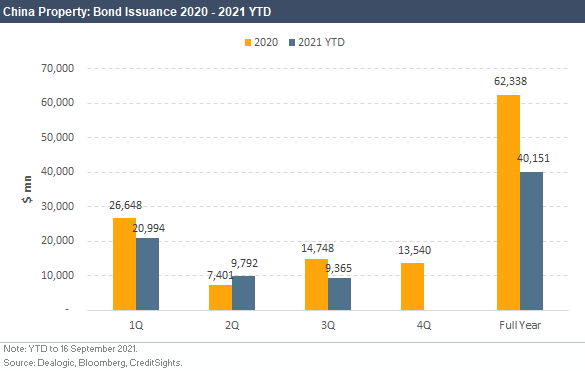 The charts we focus on this week are from CreditSights, and look at the issuance and outstanding bonds for Evergrande, the Chinese property developer which is in a distressed state at present, and those of others in the space.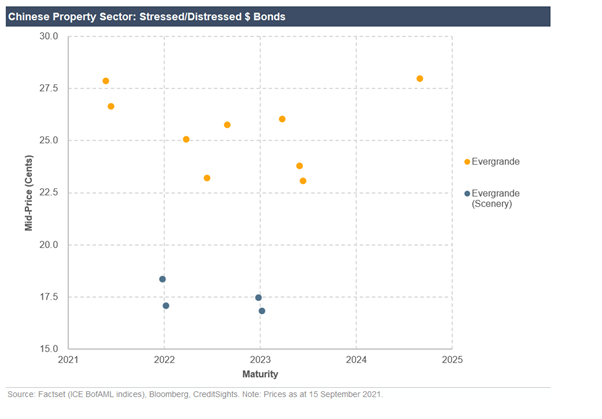 Concern around default is bringing this market to the attention of many investors, are the potential consequences of a default, and the opportunities that investors might find if the situation is being over hyped.
Year-to-date, issuance has fallen to 16 September 2021, with Chinese developers issuing a total amount of US$40.1 billion, compared to US$48.8 billion in the first nine months of 2020. So far so expected, as firms had lower refinancing needs compared to the pandemic year.
A comparison between the property sector in China and the exposure of its banks to that sector, with that of the US mortgage market and bank exposure in 2007, has led some to suggest a 'Lehman Brothers' moment may occur if a default spread to banks.
An important part of the backstory here is that the property sector has been targeted for regulatory reform, with pressure last year to reduce leverage. Increasingly defaults have been a concern for investors in China, country in the sector this year.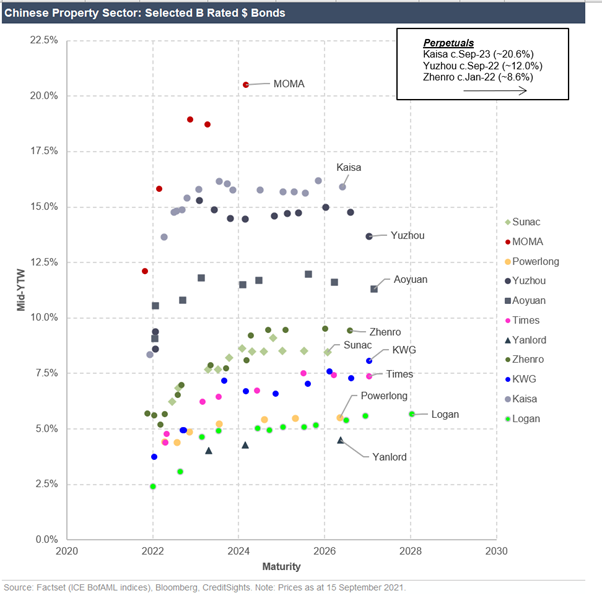 Looking at the bonds that have been issued in this space, there are a wide range possible returns with yield-to-worst (YTW) for B-rated bonds sitting between 2% to over 20%. Investors will understandably be getting nervous but investment managers may find opportunities within the market if they are well-informed.
Of course, understanding what is at stake in the wider sector is also key so these charts give an idea of the leverage that players in this market are carrying already. Analysis by CreditSights has found that while sales of commercial residential property increased in the first eight months of 2020, the rate of home price growth slowed and 20 of the top 70 cities posted house price declines "which was four more cities than the previous month".
Getting better intelligence on the risks in this area of the Chinese bond market will be invaluable, and will give a more nuanced picture than the general press are painting today.